This freehold masterpiece of bungalows with
pool is only for the distinguished. Experience your daily getaway to the fullest in this award-winning development.
Tel: 03-3291 3666
Project OverviewAman Perdana A Sensory Living Experience Surpassing All Others
Located strategically in the highly accessible Meru-Shah Alam growth corridor, Aman Perdana is a freehold 315-acre development consisting of semi-detached homes and bungalows set in a linear park. The newly completed NKVE-Jalan Meru link means that it is now only 8 minutes to Shah Alam, 13 minutes to Subang, 15 minutes to Damansara and 20 minutes to Jalan Duta in Kuala Lumpur. Certain parcels of Aman Perdana are gated and guarded for security and peace of mind.
Designed as a tropical resort theme, approximately 10% of the total land had been dedicated to landscape with central parks, community parks and linear parks located around the development. Lakes and linear parks dot the development, catering to the recreational needs of the residents. All of these are within walking distance to the residents' homes.
All homes face the general directions desired by consumers, which are facing NORTH & SOUTH to avoid the direct evening sunlight.
Innovative designs
Most design types offered have an open concept for the ground floor, allowing buyers freedom to plan usable areas. Example, dry & wet kitchen areas.
All homes offer generous and spacious rooms.
All homes offer a spacious view of the external gardens with Angle/L-Shaped Windows to all living rooms and master bedrooms.
All the dining rooms of every unit design face the courtyard gardens.
Excellent finishes. AMAN PERDANA homes offers quality laminated timber floor boards and ceramic floor tiles for staircase and upper floor sections.
For ground floor up to 12 feet of approximately 10.5 feet is much higher than industry average giving buyers a more spacious feel of the home.
Layout Plan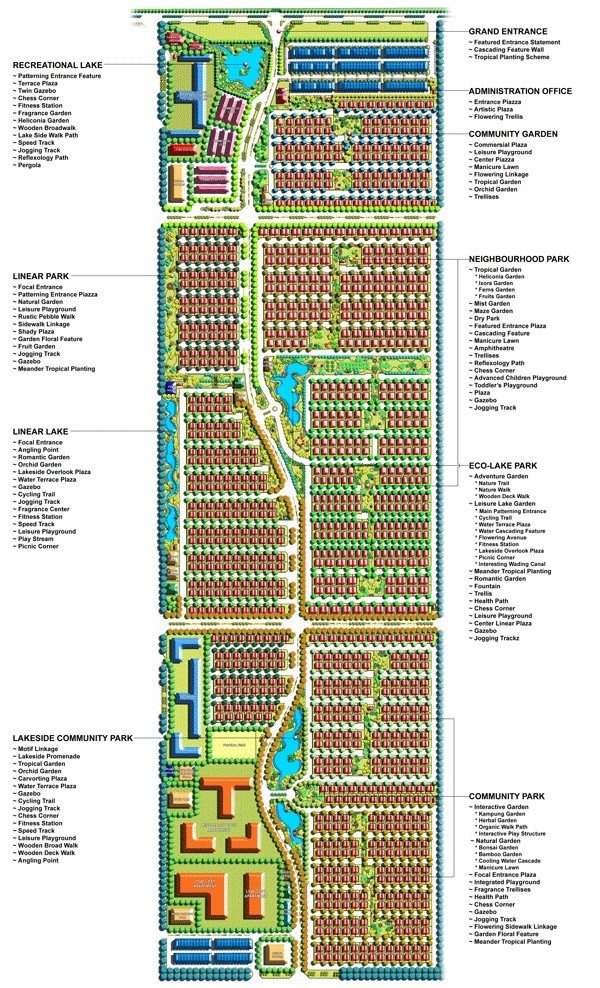 Product Brief

New Launch
2 Storey Bungalow @ Lake Precinct
Land Area : 50' x 80'
Built-up Area : 3,200 sq. ft.
6+1 bedrooms, 6 bathrooms.
From RM844,800*

Location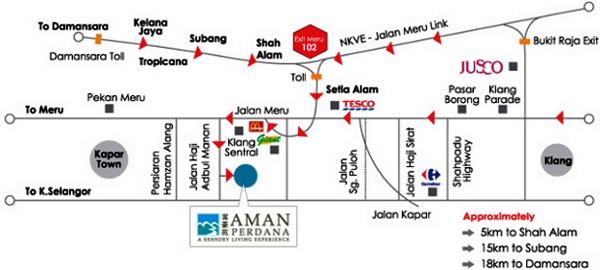 Location and accessibility
AMAN PERDANA is located within the fast growing the MERU-Shah Alam growth corridor which is set a vibrant growth hub.
The development is served by a wide network of interconnected trunk roads and highways, including the North Klang Valley Expressway (NKVE) and Federal Highway Route II via the Shapadu Highway that lead to Jalan Meru, the main road that serves the development. The accessibility is further enhanced by the completion of the NKVE-Meru Link that directly connects NKVE to Jalan Meru and end just at the junction to AMAN PERDANA. This link will halve the traveling time from Petaling Jaya, Damansara, Kepong and Kuala Lumpur for those traveling via the NKVE. To the north the newly opened Guthrie Corridor Expressway has also considerably shortened traveling time to Sungai Buloh.
About Developer: Mah Sing Group
Incorporated since 1991 and listed on the Main Board of Bursa Malaysia, Mah Sing Group Berhad is Malaysia's leading developer at the forefront of building quality homes and prime commercial projects in strategic locations.
Currently the Group has 26 projects spread throughout Malaysia's economic nexus and property hotspots, namely Kuala Lumpur and the Klang Valley, Johor Bahru (Iskandar Malaysia) and Penang Island (North Corridor Economic Region).
The Group has differentiated our product offerings to cater to property buyers in different market segments. The Legenda and Residence are niche projects in prime locations. Thoughtful details in both the interiors and exteriors of the homes are characteristics of these boutique developments. Smart home features enhance comfort and convenience, while state of the art security features ensure tranquility unperturbed by the outside world. Manicured landscaping and lush greenery creates a revitalizing ambience for wholesome living. These buyers are looking for an upgrade to suit the growing number of family members, as well as to enjoy a new premium lifestyle. The Perdana township series are self contained yet easily accessible. Generous, well maintained central parks are community focal points.
Regardless of the product series, all our products carry hallmarks of innovative designs and quality finishes, majestic grand entrances, security, extensive landscaping and greenstreet concept. Emphasis is also placed on exemplary customer service as we believe in the creation of a conducive & safe living environment by providing and maintaining parks and facilities and in ensuring effective security. We will continue to build eco-sensitive and environmentally friendly developments so that our homebuyers can enjoy life amidst greenery, in harmony with nature.
The Group also has a strong commercial presence with Grade A buildings, integrated business parks and mixed commercial developments. The Group was amongst the pioneers of en-bloc sales of Grade A buildings and corporate offices in Kuala Lumpur Malaysia, a testimony to the product quality, branding and track record of the Group.
The Group is looking at expanding its footprint regionally, with a vision to be a world-class regional developer. The Group is exploring high growth countries including Vietnam and China.
As Malaysia'a premier lifestyle developer, the Group's strong reputation has been built on years of an unblemished track record. In creating an enduring legacy of innovation and excellence, the Group has garnered numerous domestic and international awards.
Domestic awards include Best Brand in the property category in The BrandLaureate 2008-2009 awards, The Edge Top 30, Top Property Developers Awards 2006-2009, The Edge Top 100 Companies with Best Returns over 5 years 2006-2007, listing among Top 1000 Companies in Malaysia for 2004-2005 and a landscape award from MBJB in 2006.
International awards include 2 awards in Asia Pacific Property Awards 2009 sponsored by CNBC Arabia, CNBC Asia Pacific Property Awards 2008, CNBC International Property Awards 2007, Euromoney Liquid Real Estate Award 2008 for Best Developer, Overall – Malaysia, Best Office/Business Developer – Malaysia and Best Mixed-Use Developer – Malaysia as well as Forbes' Asia Best Under US$1 billion 2005-2007. The Group also recently became the only Malaysian property developer to receive a 5 stars award in the Commercial Category from Asia Pacific Property Awards 2009 sponsored by CNBC Arabia. Southgate was awarded 5 stars for Best Office Development, Malaysia while Aman Perdana was awarded 4 stars for Best Mixed Use Development, Malaysia. In 2009, the Group was again named Best Developer , Overall by Euromoney Real Estate Awards.
The Group's ultimate objective goes beyond just the structures that we build; they incorporate the communities that utilize them. Our commitment to build a strong bond with the community has led us to set up our charity arm, Mah Sing Foundation to aid and benefit the less privileged.
The Group's principal activity is in property development. Apart from the core business, the Group is also involved in plastic manufacturing and trading in Malaysia and Indonesia.